"Ellevan Music - This is Ellevan's Official Music Page."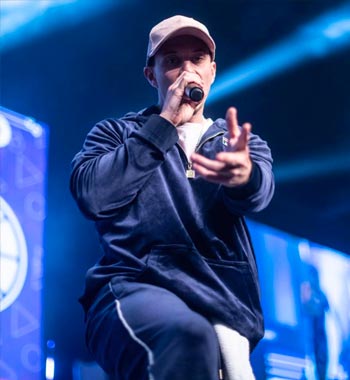 Ellevan is an internationally loved vocalist, producer and entertainer from Toronto, Canada. With a legendary freestyle performance, he thrives on creating an experience in every moment. As a studio artist, he's written with platinum status singers and content creators. A natural talent for versatility and a wide range of dynamic ability allows him to bring voices to unique melodies. He put himself to the ultimate test in 2018 by releasing 365 songs with music videos, setting a world record for content creation. He is also an involved ally to the LGTBQ community and an active contributor to urban programs that create safe spaces for expression, creativity and mindfulness.
You can catch him gracing the silver screen as an actor in feature films or engaging live audiences at festivals. He's always spreading the positive energy that fuels everything he does. Currently in post production for his Live Special shot in Toronto, he splits his time between there and Los Angeles, producing music and film.
Self produced and self managed, self belief is the name of the game with Ellevan, and that's what he wants his audiences to understand; that's really all it takes.
Keep up to date and catch one of his incredible live streams soon! @EllevanMusic
Early Career:
Growing up in Vancouver, B.C, he gravitated towards diversity having experienced struggles at home, school and the streets himself, he found healing through artistic expression.

Dropping out of High School in 11th grade, he immediately pursued acting and stand up comedy, which he fulfilled the life-long dream of performing at The Comedy Store in L.A by the time he was 20, and consistently booked in Film and Television, although something was missing. Leaving the comedy stage to learn how to record and mix himself was a several year journey before moving to Toronto to take the city's live music scene by storm at 22.

Performing 3-5 times a week for 2 years was the path to find the crystalized version of himself. Having done all the local small, medium and large rooms with his live band, he needed a new challenge. So he turned to street performance to truly put his mark on the city. What was supposed to be a single 2 hour public freestyle demonstration would turn into his best branding campaign yet! #ThatFreestyleGuy was born and Ellevan began 4-5 hour freestyle rap performances at iconic Toronto landmarks everyday for an entire summer pulling audiences of hundreds off the streets at times and eventually crowd funding a tour to take it across the USA. Upon gaining a buzz he began to get booked privately and started producing bigger collaborations.

Connecting with high level influencers at digital content festival Playlist Live, appearing with viral dancing sensation, Spandy Andy. He would go onto create relationships with top talents of North America (Matthew Santoro, Karl Wolf, Elise Bauman, Humble The Poet, DSharp) which led to putting him on the visible plain for further collaborations.

Now with a world record under his belt, great relationships across the continent and fans around the world, he leads this new chapter of expansion with mindfulness and a message of love.